Gentle Dentistry
We strive to make your dental visit comfortable
We know that the dentist's office isn't necessarily your favorite destination, so we try to keep the mood light at our Michigan dental offices. When we say "gentle dentistry" we mean, simply enough, that we strive to make your experience at the dentist as anxiety-free and comfortable as possible.
It's the unknown that creates fear. When you have information it eases anxiety, which is why we employ the CAESY Patient Education system to help you become familiar with the dental procedures we will be performing. You can learn more about what's happening with your oral health through multimedia presentations, live-action videos, and handouts.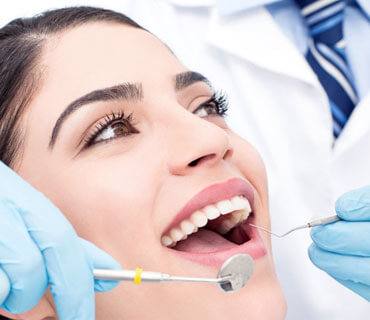 Apprehension about visiting the dentist can also come from worrying about the side effects of various procedures. Our high-tech digital equipment reduces radiation, and our use of digital x-rays makes it easier, faster, and safer for you to undergo this part of an annual dental exam.
Air Abrasion
The air abrasion technique is another bit of technology that we subscribe to in our Macomb County dental offices. The sound of the drill can be what patients often worry about the most. Air abrasion helps us create an atmosphere of calm by offering an effective, quite alternative to the sound of the dentist's drill.
We know that the unease many people associate with or feel when they're at the dentist's office (or even when they just think about the dentist's office) can discourage them from keeping their twice-annual appointments to undergo dental cleanings, exams, and oral cancer screenings. But we can tell you that allowing your mouth to fall into disrepair because you dread the dentist isn't going to solve the problem – you'll eventually suffer so much pain and difficulty with your teeth and oral health that there will be no question you'll need dental care, and it will be extensive and expensive.
Be good to yourself and take care of your oral health. We will do everything we can to make your dental experience pleasant and comfortable. Hey, we even offer aromatherapy to help you find some inner peace and ease your stress as you spend time in our office.
Want to actually enjoy your visit to the dentist? Contact our Shelby Township dentist office or St. Clair Shores dental office to schedule your appointment and experience gentle dentistry.