Dental Implants
The Smart Alternative to Dentures
Many of the patients at our Macomb, Michigan, dental office are choosing dental implants as the preferred tooth replacement therapy. Dental implants can provide permanent, stable, attractive replacement teeth for a long-lasting and natural-looking smile.
Dental implants consist of three parts: an anchor implanted into your jawbone (made of titanium), a post to attach the replacement tooth, and the replacement tooth itself, which is a crown.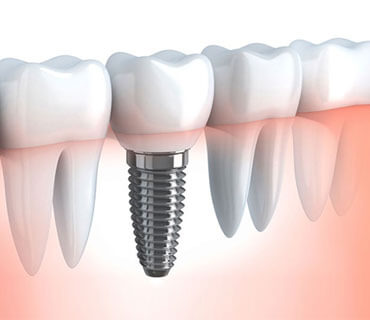 One-time denture-wearers in particular have had great success with dental implants. Studies show that almost 90 percent of denture-wearers who switch to implants find their confidence and smile quota improves! Plus, no worries about your dentures popping out at an inopportune time, and there is no question that you can dig into the chewy and crunchy foods you love most without worrying about the staying power of your teeth.
Dental implants also help prevent bone loss. Another magical result of this popular cosmetic dentistry technique? Dental implants can revitalize your appearance and make you look more youthful – that's a plus no matter your age! Dental implants are an effective treatment choice for many patients.
For more information about dental implants, or to schedule a cosmetic dentistry consultation, contact our Shelby Township dentist office or St. Clair Shores dental office in Macomb County, Michigan.